Bergy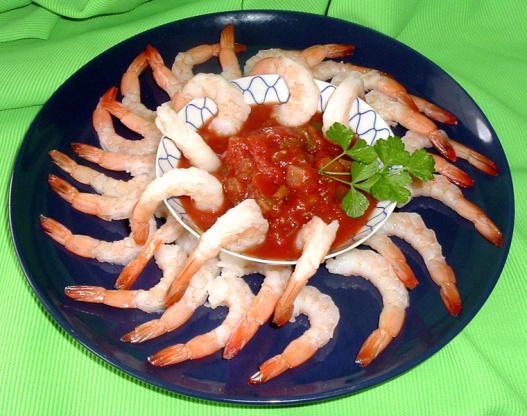 This is something I made up after going to a Mexican restaurant some years ago. I make it for parties and potlucks and it is always a hit.

Top Review by Bergy
Had this for our Sunday 3PM appetizer course and it will be a regular. Delicious flavor with the combination of V8, cilantro, avacado and fresh tomatoes. I cut the recipe in half and they were good generous servings. The recipe is a bit vague as to amounts but for half the recipe I used just under 1/2 cup V8, 1/2 cup seafood cocktail sauce, 4 oz extra hot salsa, 3/4 lb shrimp,3/4 cup cilantro,1 large avacado, 2 tomatoes, 2 tbsp lemon juice. Very tasty than-you Polly for a winner — Aug 5, 2002, 2 members found this helpful Made this again and this time just had the prawns on the side of the great tasting salsa. Didn't have any avocado still MMM
1 1⁄2 lbs medium to large shrimp, shelled and deveined (cooked)

1

(48 ounce) can V8 vegetable juice

1

(8 ounce) jar seafood cocktail sauce

8

ounces salsa (as hot as you like it)

2

cups chopped cilantro

3

diced avocados

4

medium diced vine ripe tomatoes
Combine all ingredients together and allow about 3 hours for marinating.
Serve cold.