Prep 15 mins
Cook 15 mins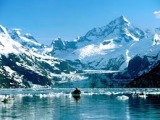 I love this quick version of spanakopita.It is made into rolls for easy preparation. They are larger than the traditional triangles, so you probably only need 1 per person for an appetizer or 2 per person if you are serving it as a main course. Recipe by Rachael Ray, slightly adapted.
Directions
Preheat your oven to 400 degrees F. Make sure you rack is in the center position.
Preheat a small pan to med-high heat and then add you oil and onion - saute for about 5 minutes. Transfer the onion to a bowl. Add spinach to the onion and season it with salt, pepper and nutmeg. Add the feta and combine it well with the spinach mixture. Next add the beaten egg and sour cream and combine it well with the cheese, spinach and onion mixture.
Lay out one sheet of phyllo dough on a clean surface and paint half of it with some of the melted butter. Fold the sheet in half to make almost a square. Put up to 1/4 of the spinach mixture onto the phyllo into a log shape, working 2 inches from the bottom and each side of the pastry. Tuck the bottom edge up and fold both sides in, then roll and wrap upwards until you reach the edge of the dough sheet. Each filled pastry will look a bit like an egg roll. Paint the seam and the ends of the roll with butter and set it seam side down on a cookie sheet. Repeat these steps to make 4 rolls.
Bake for about 15 minutes, or until lightly golden brown. Serve and enjoy!
Reviews
Most Helpful
DD and I really enjoyed these little spanakopita. I made them as directed execpt for adding some garlic and using fresh spinach. Made for Soup-A-Stars ZWT9

This was an easy way to make spanakopita and makes a great appetizer. Not really sure how to rate this because the taste was good, but the phyllo was a bit dry. I don't know if it was the recipe or my phyllo - which I must admit was in the freezer for a few months. I did brush the top of the rolls with butter before baking, and then again after they came out of the oven. Total baking time for me was 25 minutes. In any case, this is still a keeper and I will try again with a new box of phyllo, maybe being more generous with the butter! I think these make a perfect starter for a dinner party, or if cut on the diagonal, perfect for an appetizer tray. ZWT9 for Gourmet Goddesses!