Swirling F.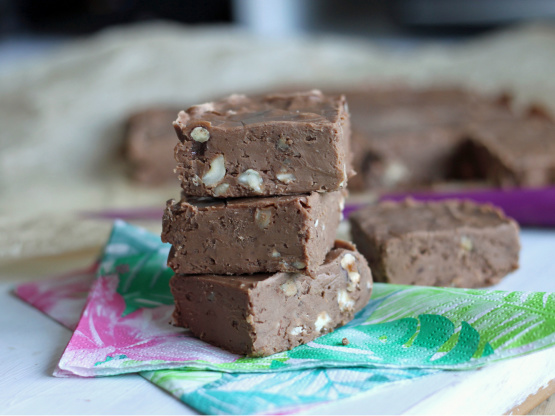 Found this on the net at CopyKat recipes. I don't know if it's like See's, because I've never had See's. But I do know it's good!

Top Review by ltolin
A couple of cautions/warnings. Very important when cooking mixture on stove to use a very large saucepan as mixture more than doubles in size. Cook mixture for AT LEAST 6 minutes. That is the key to having your fudge firm up nicely. Also, use a stand mixer. Have mixer running at slow speed and pour hot mixture in a slow stream into butter, choc. chip and vanilla. That way, there is no splatter. If you double this recipe, it fits nicely in a 13 x 9 inch pan. Lining pan with foil enables you to lift fudge from pan once it has cooled. Trust me, I've made this recipe alot.
Put butter, chocolate and vanilla in medium bowl.
In med saucepan, mix sugar, milk and marshmallows.
Bring to a boil over med heat, stirring.
Reduce heat to low and cook for 6 minutes, stirring constantly.
Pour hot mixture over chocolate in bowl.
Beat with mixer until thick and dull, (this doesn't take long).
Stir in nuts.
Pour into buttered 8x8 pan.
Refrigerate until firm.