Scratch Tuna Noodle Casserole
OwlLily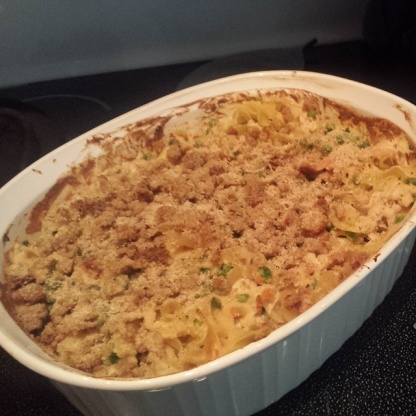 I made this tonight and my extremely picky 3 year old ate three helpings, so I'm posting it because it is solid gold! Use one slice of bread in a food processor to make about 3/4 cup of soft breadcrumbs.
Preheat oven to 375 degrees.
Prepare pasta according to directions. Rinse and set aside.
In the meantime, mix breadcrumbs and 1Tbs butter. Set aside.
Melt remaining 3Tbs butter in a medium saucepan over medium heat and add onion and carrots. Saute 4-5 minutes until softened.
Add flour and stir while it bubbles. Cook one minute, stirring constantly.
Add milk, water, mustard, salt and pepper, stirring while it thickens. Cook, stirring until it thickens to the correct consistency.
Remove from heat and stir-in tuna.
Mix in noodles and pour everything into a 1.5-2.2 quart glass pan. Crumble breadcrumbs on top.
Cook, uncovered in oven for 20 minutes.