PaulaG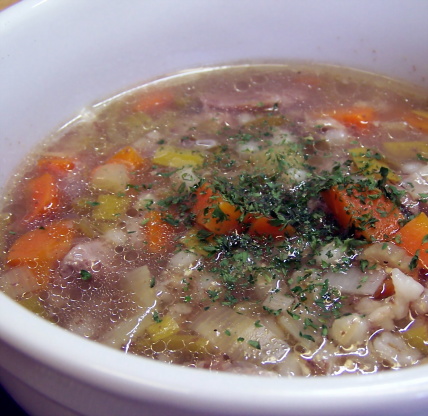 This recipe comes from The Gourmet Slow Cooker by Lynn Alley. Scotch Broth is a Scottish tradition that dates bake hundreds of years. This dish has plenty of substance and flavor. Cooking it in the crockpot makes it so easy to have dinner ready in no time. It is suggested that this be served with a Scotch beer or ale and some heavy crusty bread.
This recipe is delicious but you need to delete the celery and add small turnips instead. Scottish people are not much into celery and certainly not pre 1990. I was born and raised in Scotland and rarely saw celery in the grocery store before that date. Even now its not that popular. I don't understand why Americans feel the need to put celery in everything.
In the slow cooker, combine the lamb, barley, carrot, leeks, celery and water.
Cover and cook on low for 5 to 7 hours, until meat is very tender and falling apart; add salt and pepper to taste.
Ladle into serving dishes and garnish with parsley.
Enjoy!