teresas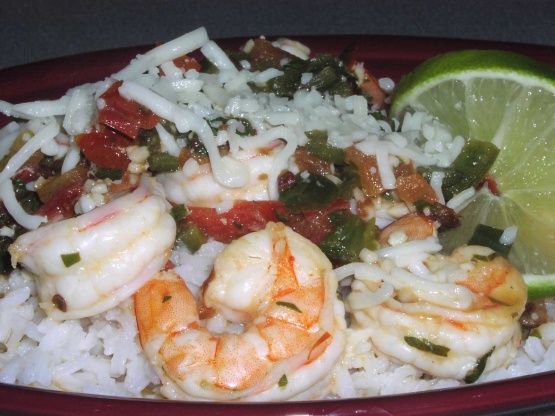 From Light & Tasty Aug/Sept. 2007. Originally submiteed by Laure LaClair of North Richland Hills, Texas.

Hubby & I thought this was good. I followed the directions exactly and did not sub anything, only I did add some thinly sliced shallot, and then I tossed everything with a small amount of cooked linguine. I used fresh mozarella, which was good for cooling down the heat of the chipotle, which I used a whole chili, as we like things very hot. All in all, this will go into my file of keepers, and we will definately make this again. Thanks for posting.
In a large nonstick skillet, saute the tomatoes, peppers, and garlic in oil for 2 minutes.
Reduce heat to medium; stir in the shrimp, wine or broth, cilantro, lime juice, butter and salt.
Cook and stir for 3-4 minutes or until shrimp turn pink.
Remove from heat; sprinkle with mozzarella cheese.
Garnish with lime slices if desired.