teresas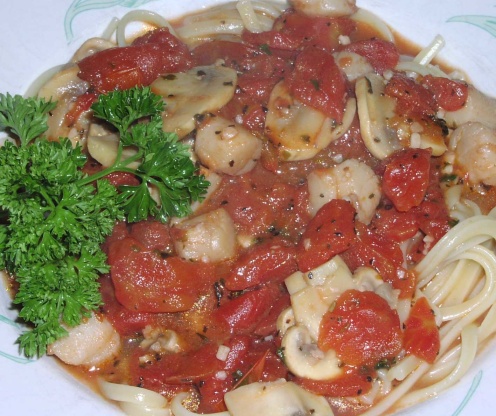 This is based on a recipe from the cookbook that came with my KitchenAid mixer. The introduction states, "Fresh scallops and mushrooms simmered in a light but spicy tomato sauce," and "When selecting scallops, choose ones that are translucent and shiny in appearance and have a sweetish aroma." Serve with hot cooked rice or a loaf of crusty bread.

Incredibly simple and foolproof. The ingredients are common; the prep is simple. The taste is quite sophisticated Don't hesitate serving this to your family or guests. My wife and I loved it. We paired this with a malbec from Argentina for a great meal.
Slice mushrooms and set aside.
Chop tomatoes.
In 12-inch skillet over medium heat, heat butter and olive oil.
Add garlic and saute 1 minute.
Add scallops and saute 1 minute.
Add mushrooms and cook another minute.
Stir in tomatoes with their juice, red wine, parsley, lemon juice, oregano, basil, salt, and pepper.
Reduce heat and simmer 5 to 7 minutes.
Serve immediately.