Scallion Sesame Turkey Burger
Ms B.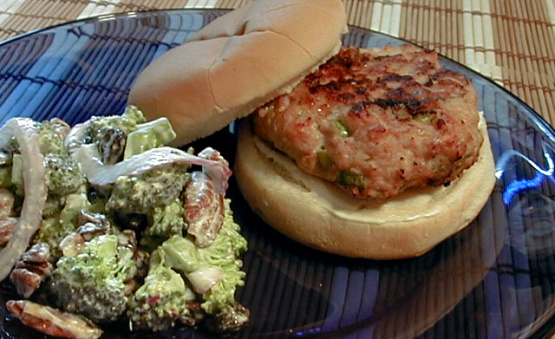 I found this in some random cookbook. One of the best turkey burgers ever. Full of flavor. Make an extra for lunch the next day, reheats beautifully.

THE best turkey burger we've ever had. The first time I made them, I had the butcher grind all white meat, they were good, but not great. The second time I bought a mixture of white and dark meats. Yum. The third time, I added 2 tablespoons of minced fresh ginger. Perfect!! I made all the burgers, cooked them all the way through, and placed them in individual zip bags in the freezer. We just take a bag (or two) out and place in the micro on high for four-five minutes ( depending on the size of the burger) and we have dinner. Thank you for a great recipe.
1 1⁄2 lbs ground turkey

3

tablespoons sesame seeds

2

tablespoons soy sauce
1⁄2 cup minced scallion, white and green parts both

2 -3

tablespoons minced cilantro

2

teaspoons pulverized garlic

2

tablespoons sesame oil
3⁄4-1 1⁄4 cup breadcrumbs, depends on how moist the turkey is
oil, if desired (for cooking)
Mix togeter, gently. the turkey, sesame seeds, soy, scallions, cilantro, garlic, sesame oil, 1 teaspoon of salt, and bread crumbs.
Form into patties.
I usually mix all this together and make patties in the morning and leave in the refrigerator till I'm ready for them.
Sometimes that is the next day.
Brush with a little oil before grilling if desired.
Grill on the George Foreman, in a grill pan.
If you're using the outside grill increase the breadcrumbs a bit to insure they don't fall apart.