Savoury Bread and Butter Pudding
gerry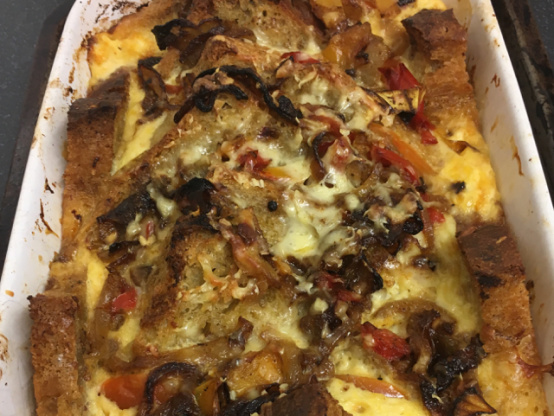 A very good side dish for many different main courses.

this is to die for! we actually sat there with spoons eating it right out of the pan! i had some leftover herb bread that i baked and sourdough that i purchased, so i used one layer of each. i am sure you could add spinach and mushrooms to the onion mix, going to try that next time. i bake alot of breads and this is the perfect way to use the leftovers, a keeper!
Use a little of the butter to fry the onion, paprika and the garlic until they are soft.
Use the rest of the butter to spread on the bread and grease an ovenproof dish.
Cut each slice of bread into triangles and arrange 6 slices, butter side up, in the dish.
Sprinkle over half the onion-garlic mix and half the cheese.
Arrange the remaining slices on top, this time with the butter side facing down, and top this with the rest of the onion-garlic and the cheese In a jug mix together the yolk, eggs, milk and seasoning.
Pour the egg-mixture over the bread.
Cover and leave for 30 minutes minimal, maximal 2 hours.
Preheat the oven to 350 degrees F.
Uncover the pudding; bake for 40 to 45 minutes until brown and the custard has set.
Serve with the parsley sprinkled over.