Rita1652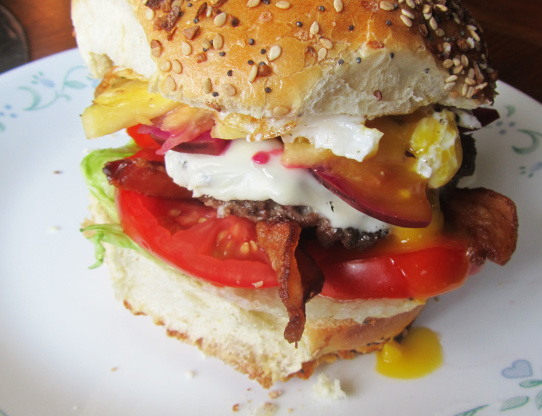 Adapted from Saveur magazine(issue #122), filled with great ingredientts! A meal in itself! :)

Ace! This Burger is the Bees`s knees. I didn`t butter the buns found no need to.I do liked that you seasoned the meat. I did use fresh pineapple sliced super thin and fermented beets sliced very thin. Loved the sweetness that the pineapple gave to the burger and the earthiness the beets gave to it. The cackleberry really topped this nicely. All ya need is a Fosters and your set with this burger. Cheers Made for ZWT #8 Lively Lemon Lovelies.
In a bowl, combine beef, chile flakes, and garlic. Season with salt and pepper. Form beef into two 1" thick patties and transfer to a plate. Heat butter in an 8" nonstick skillet over medium heat. Add onion slices and cook, flipping occasionally, until browned (but not falling apart), 8–10 minutes. Remove skillet from heat; set onions aside.
Prepare a medium-hot charcoal fire or heat a gas grill to medium-high (or heat a tablespoon of canola oil in a large cast-iron skillet over medium-high heat).
Brush pineapple with 2 tablespoons oil; grill, flipping once, until lightly browned. Transfer pineapple to a plate and set aside.
Grill burgers, flipping once, until cooked to desired doneness, about 10 minutes total for medium rare. During the last minute of cooking, top burgers with cheese; let melt. Move burgers to a plate.
Meanwhile, heat remaining oil in a 10" nonstick skillet over medium heat. Add eggs; cook, covered, until yolks are just set, about 4 minutes. To bottom half of each bun, add lettuce, beets, tomato, onion slice, pineapple, and a burger. Top each with an egg; add top half of bun. Add the condiments you like and enjoy!