Bergy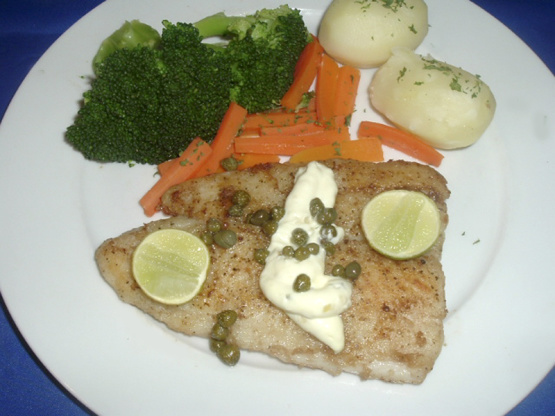 This is a quick, easy and delicious dish that I saw being made on FoodTV about 2 years ago. I don't remember the show but Chef Ehab Habishi is the author of the recipe.

Wow! Great recipe--simple and tastes amazing! I never knew how easy is was to make delicious sea bass at home. I feel like I ate at a fine restaurant this evening. Thanks so much for sharing. My family loved it.
Preheat oven to 200°F.
Place flour for dredging in a shallow bowl; coat each fillet with seasoned flour and shake off excess.
Heat a large nonstick skillet over medium heat for 3-4 minutes; add butter/olive oil combination then add the fillets, without crowding.
Increase heat to high and saute, shaking the pan from time to time, until bottom of the fish is nicely browned, about 3 minutes; turn and brown the other side.
Remove fish to a plate and keep warm in the oven; repeat with remaining fillets.
Deglaze the pan with white wine; cook, stirring over high heat until reduced by about 1/3; stir in remaining butter and drained capers.
Place fillets on individual serving plates and drizzle sauce around each fillet.