Food.com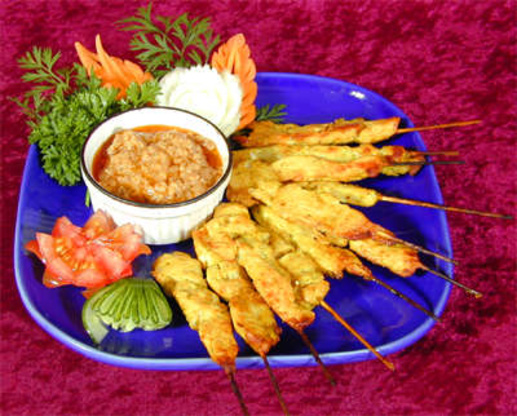 Tender chicken on bamboo skewers with a peanut sauce dip makes for an attractive and excellent tasting starter. This Recipe works equally well with pork or beef.

Went over well. I made a few substutions on things and it turned out great.
Also need 24 8 inch Bamboo Skewers.
Cut the chicken breast into 1/4 inch chunks (3 for each skewer).
Chop the coriander root, kaffir lime leaves and the lemongrass.
Marinade the chicken with all the ingredients for at least one hour.
Thread meat onto bamboo skewers.
Satay will taste best when cooked over charcoal grill.
During cooking, use a small basting brush with coconut milk, turn stick several times until meat looks brown and cooked through.
Serve hot with peanut sauce.