Sarasota's Favorite Steak
Rita1652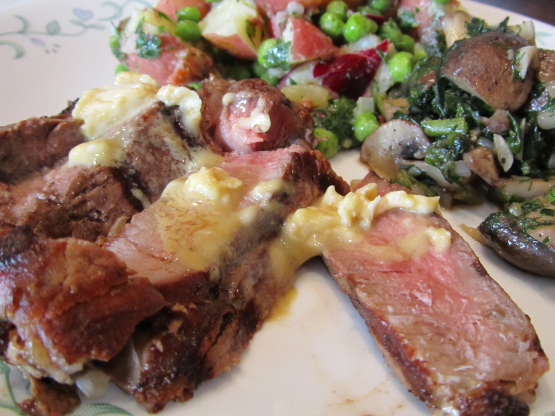 This is nothing fancy or too special, but it is my favorite way to prepare steak. It is simple, easy, pantry or refrigerator ingredients and is always great. I prefer to marinate the steaks for at least 2-4 hours if possible, and make sure they come to room temperature before grilling. Also, using a good blend of whole peppercorns (or just black peppercorns, crushed rather than ground) really creates the great flavor along with fresh lime juice and unsalted butter. Don't skimp on this.

A great way to start my spring grilling! I used 1 inch 2 t-bone steaks. I did marinade for 4 hours. Brought to room temperature for 1 hour before placing on a hot grill. Didn't turn the steaks till they released easily from the grates then flipped and let mark continued to cook to medium rare. This recipe does call for a lot of the butter sauce. Half the amount would suffice. All in all it was DELISH! Thanks.
4

steaks (fillet, t-bone, strip, skirt, porterhouse, ribeye, etc, use your favorite)

Rub

4

garlic cloves, minced (I use a garlic press to get the juice as well)

6

teaspoons peppercorns, crushed (not ground)

1

tablespoon olive oil

2

teaspoons kosher salt (sea or grey salt will work well too)

Butter Sauce

1⁄2 cup butter (I use unsalted)

1

teaspoon lime juice

1

teaspoon Worcestershire sauce

2

tablespoons Dijon mustard

Onions

1

large onion, cut in thick slices

1

teaspoon Worcestershire sauce

2

teaspoons olive oil
Peppercorns -- To crush them vs grinding. I simply add them to a baggie and then crush them with a meat mallet. You can also use a heavy pan or a rolling pin or even a hammer. I just prefer them crushed rather then ground for this recipe.
Butter -- Add the room temp butter in a small bowl with the lime juice, worcestershire sauce, and mustard and mix well. Refrigerate well before using. This makes a lot of butter sauce, so if you want you can cut the recipe in half. It really depends on your guests, some of my friends like more butter, so I always make extra.
Steaks -- I really love to marinate at least a 2-4 hours, but even a hour will work just fine. In a small cup, add the olive oil and press the garlic so you get all the juice and mix well. Brush or rub on the first side of each steak. Then rub in the peppercorns and salt well. flip the steaks and repeat the second side. Now, I prefer to transfer these to a small plate or dish and cover well with saran wrap and let them marinate. Make sure before you grill these you let them come to room temperature.
Grilling Steaks -- I won't go into grilling steaks, because you can pan saute and finish in the oven, or just saute. Gill inside or out, etc. Any way you prefer. After the steaks reach your preferred doneness. Make sure to cover them and let them rest.
Onions -- Brush each of the onion slices with a mix of the olive oil and worcestershire sauce; and then season well with salt and pepper. Grill the onion along side the steaks. They should take about 3-4 minutes per side.
Serve -- Top the steak with a spoon of the chilled flavored butter and a couple of onion slices on the side. Grilled corn with a lime chili butter is a great side along with a green salad topped with black beans, avocado and onions. ENJOY!