gailanng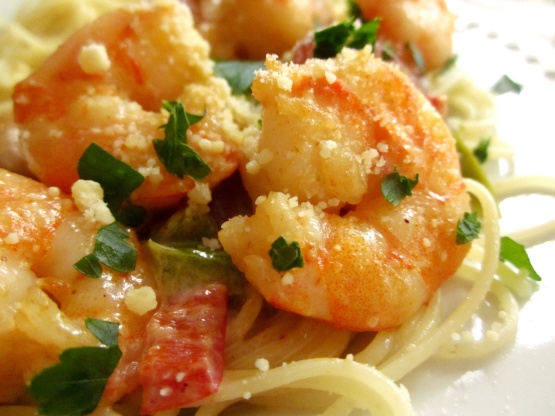 This dish sounds decadent, but might be a perfect dinner for two on some romantic evening--- or not! Or, maybe you are just in the mood for a rich, yummy pasta dish for absolutely no reason at all!

We really enjoyed this recipe as it was very tasty & presented nicely, however, the shrimp definitely do not need 8 mins to cook. I cooked for about 2 mins and when put back in the pan to warm in the sauce, they were perfect. Husband loved it & not overkeen on pasta. It was a winner here. Thanks for the recipe
In a large skillet, heat butter and oil. Add shrimp and cook about 8 minutes or until shrimp are pink and firm. Remove shrimp and set aside.
Add peppers, onion, garlic and cilantro and saute until just barely tender. Remove vegetables and set aside.
Add tequila to skillet (off flame) and swirl around pan. Add all seasonings and cream and simmer. Allow sauce to thicken slightly.
Return shrimp and vegetables to skillet and toss until mixture heats well and coats shrimp with cream. Serve immediately over hot, cooked pasta. Garnish with parmesan cheese and extra cilantro leaves.