diner524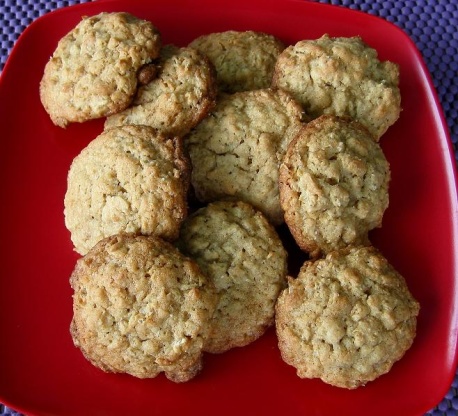 Sweet and saltly seems to be the trend lately. This recipe is from The Washington Post.
These are delicious!!!! At first I thought it sounded weird, sprinkling salt on top of the cookies. But there isn't any salt in the dough, so you definitely want to sprinkle it on before baking. I just made 12 cookies today, but will keep in the refrigerator and make fresh batches everyday!! Thanks for a great recipe, will be made again and again!!! Made for PAC.
In the large bowl of a stand mixer fitted with the paddle attachment, beat the butter for a few minutes on medium-high speed until light and fluffy. Scrape down the sides of the bowl and add the sugars, baking powder, baking soda and cinnamon, beating until the mixture is well blended. Reduce the speed to medium and add the eggs and vanilla extract, mixing until well incorporated. Reduce the speed to low and add the flour and oats, scraping down the sides of the bowl as necessary and mixing just until they are incorporated. Cover the bowl with plastic wrap and chill the dough for at least an hour before baking.
Preheat the oven to 375 degrees. Line a large baking sheet with parchment paper.
Form the dough into golf ball-size balls and place about 2 inches apart on the baking sheet. Sprinkle sea salt generously on top of each ball of dough, as you would sugar. Bake 1 sheet at a time for 15 minutes or until the cookies are puffed and beginning to turn golden, being careful not to overbake. (The cookies should have a tender interior.) Transfer the cookies, still on the parchment paper, to a wire rack to cool completely.