lazyme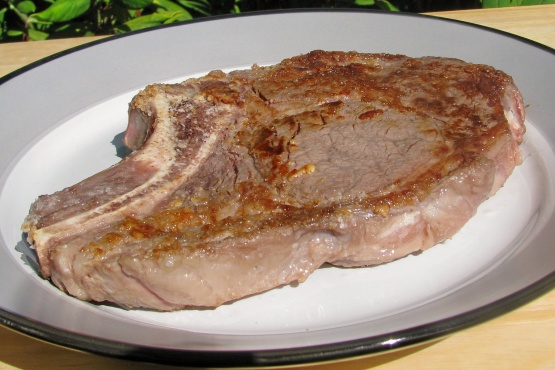 No oil is needed to saute' these beauties. The juices from the meat mix with the salt to form a crusty coating that not only prevents the steaks from sticking to the pan but adds a great caramelized flavor. Gourmet...this same method can be used to cook four 6 ounce hamburgers (1 1/4 inch thick)using 2 teaspoons salt

We enjoyed this very much and the hubs couldn't have loved it more. I used buffalo rib eye steaks. I personally found the end result saltier than I prefer, but found the method to be speedy and easy. I did use course kosher salt, but I think I may use less than called for next time. I also served it with a compound butter I mixed up using 2 T butter, 2 t minced garlic, 1/4 t course ground pepper and a palmful of grated parmesean cheese. Yum. Thanks for posting.
2

(7/8 lb) rib eye steaks (should be 1-1/4 inches thick (1-3/4 pounds total)

4

teaspoons kosher salt
Pat steaks dry.
Sprinkle salt evenly in a 10-inch cast-iron skillet.
Heat skillet over moderately high heat until faint wisps of smoke are visible.
Add steaks and cook, shaking skillet after 1 or 2 minutes to loosen them from the bottom, for 6 minutes.
Turn steaks over and cook for 5 minutes more for medium-rare.
Transfer to a cutting board and let stand, loosely covered with foil, for 5 minutes before slicing.