Salmon With a Macadamia Nut Crust
ImPat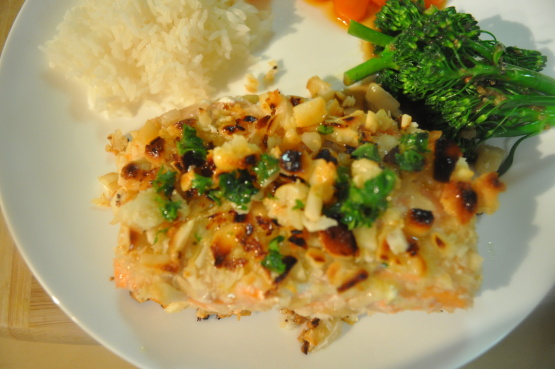 This was made with Atlantic Salmon but I'm sure any kind salmon will do. Easy enough to make and serve over brown rice. To get the nut coating to be nice and crispy take the suggestion from mikekey and chop the nuts very fine also make sure the egg white is nice and frothy. Once you put the fish in the pan do not peek by lifting the fish up until it is nicely brown and crispy. Another suggestion, macadamia nuts are delicious but pricey so tonight I made this using wild Pacific salmon and finely chopped walnuts and it was good also.

10 stars for this one!!!! Fish stayed very moist, with a crunchy outer layer. I chopped the nuts very finely in my mini-processor so had no problem with them staying put on the fish. The butter/parsley was a nice finishing touch. I skipped the rice and served with Recipe #414772. Made for Spring 2010 PAC.
Sprinkle fish with coarse pepper and kosher salt or sea salt.
In a shallow bowl, whisk egg white until frothy.
Dip fish in egg white, then coat with nuts. Pat nut mixture onto fish.
In skillet, cook fish in olive oil over medium heat for about 5-7 minute on each side or until fish flakes easily with a fork.
Meanwhile, melt butter. Stir in fresh parsley and squeezed lemon juice.
Drizzle over fish.
Serve with brown rice.