Salmon Salad Sandwich Filling
GaylaJ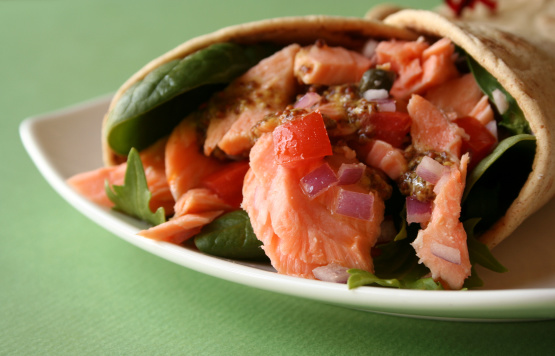 A healthier alternative to traditional mayo-based salmon salad. This is from a chef friend of mine...

Top Review by GaylaJ
This recipe made great use of my lonely leftover salmon fillet. I broke it apart, tossed it with the tomato (a whole small Roma), onion, and also a few capers (just sounded good), then whisked the olive oil and mustard together and drizzled it over. This was wonderful in a wrap, and I did enjoy the addition of the capers. Thanks for sharing your friend's recipe!
Combine everything in a small bowl.
Salt and pepper to taste.
Spoon into a pita with some lettuce or spinach, onto whole grain bread, or into a wrap.