Prep 30 mins
Cook 25 mins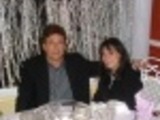 Recipes using calcium-rich canned salmon from Good Food Magazine March 1988
Make and share this Salmon Nicoise Salad recipe from Food.com.
1 lb potato, pared
12 ounces green beans, trimmed, cut into 2-inch lengths
1⁄2 cup olive oil
1⁄2 cup fresh lemon juice
1 teaspoon grated lemon zest
1⁄2 teaspoon dried thyme
1⁄2 teaspoon salt
1⁄8 teaspoon fresh ground pepper
1 cucumber, pared, seeded, thinly sliced
1⁄3 cup brine-cured black olives, halved, pitted (such as Nicoise, Calamata, etc.)
4 large leaves curly lettuce, thinly shredded
1 (15 1/2 ounce) can red salmon, dark skin removed, chilled
2 plum tomatoes, quartered lengthwise
Directions
Boil potatoes in large pot of salted water 15 minutes. Add beans, cover pot, and cook 8 minutes. Drain and cool under cold running water. Slice potatoes 1/4-inch thick.
Whisk oil, lemon juice, zest, thyme, salt, and pepper together in small bowl.
Place potatoes, beans, cucumber, onion, and olives in large bowl, add 1/4 cup dressing, and toss to coat.
Toss lettuce with 2 T. dressing and arrange on platter. Spoon vegetables on top. Pour remaining dressing over salmon and carefully spoon chunks over vegetables. Garnish with tomatoes. Serve at room temperature.