Salmon (Microwave-Cooked)
BecR2400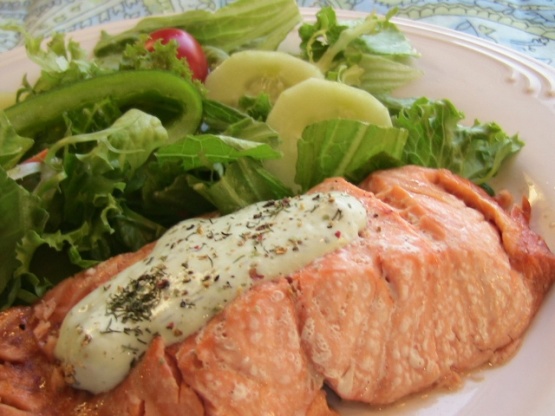 I am a true seafood/fish lover and this is my favorite way of having my salmon prepared, even over grilling. It's delicious and also a great "busy night" dinner to prepare on little time. Always comes out tender and flaky the way it should be, not dried out. I've made this many times and it's never failed me. This was passed onto me by my best friend, Steph.

My first cooking success of the year 2009! I used a marinade of butter, lemon juice, dried dill weed and brown sugar - it was just incredible. However, the salmon filets, totalling 1lb, was well cooked within 6 minutes on high, so I didn't quite get to step 5. My wattage must be higher than the recipe's author's.
Marinate and/or baste salmon with 1/2 of your favorite marinade.
Place fish, skin side down in a shallow microwave-safe dish; cover with plastic wrap.
Cook, on high, for 7-8 minutes.
Remove dish, uncover and baste with the rest of marinade.
Recover and cook on medium for 6-7 minutes.
Salmon will come out tender and flaky.