Prep 25 mins
Cook 25 mins

Strawberries & Melons! :) Created for RSC#7
Directions
For filling; place strawberries, melon pieces (use a melon ball scoop if desired), dates and sugar into a large saucepan. *to chop dates easily, use scissors*.
Bring mixture to a boil over high heat, stirring occasionally.
After fruit begins to boil, reduce heat to medium and continue to simmer for 13-15 minutes being sure to stir often.
Remove from heat and add vanilla.
Pour fruit into a 9x9 pan.
For Biscuit Topping; Place flour, sugar, and baking powder into a bowl.
Cut in cold butter with two knives or a pastry cutter until mixture resembles fine crumbs.
Add pistachios and stir to combine.
Pour in milk and blend until mixture is thick. Do not overmix.
Drop 9 equal spoonfuls over top of fruit filling in rows of three.
Sprinkle with remaining sugar.
Bake at 425 degrees for 20-25 minutes until hot and bubbly and topping begins to brown slightly.
*you may want to place a cookie sheet to prevent it from spilling over onto the oven floor*.
Serve warm with Creamy Vanilla Yogurt Sauce.
For Creamy Vanilla Yogurt Sauce; Combine all ingredients and blend well.
To Freeze: After cobbler has cooled, wrap with tinfoil, label and freeze for up to 2 months.
To serve: Thaw in fridge overnight. Warm in the oven if desired.
Make the creamy yogurt sauce before serving.
Most Helpful
love the name. Love the dish.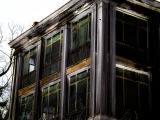 This cobbler was far too sweet for my taste. I tasted the cobbler before making the Vanilla Yogurt Sauce. Recognizing how sweet the cobbler was, I used a dollop of plain yogurt rather than the yogurt sauce. This helped offset some of the sweeetness. I probably should have looked at the nutritional content before making this. If I had, I probably would have noticed that this was going to be a super-sweet item.

I believe this has some good potential - but written as it is - the fruit is way too sweet, and the creamy yogurt sauce has too much vanilla, giving it too stong a flavor also. I could not eat more than about 3 bites. My DH felt the same way also. I even double-checked to make sure I had read the amounts correctly and I had.