Russian Blueberry Raspberry Pudding
CoffeeB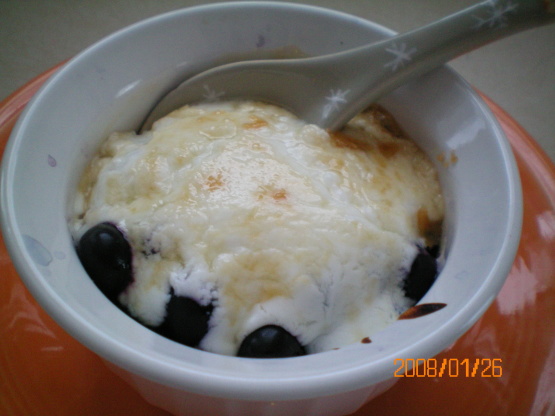 So simple, lowfat, warm and full of fresh fruit, this quick dessert is from Southern Living. I like it with all blueberries and non-fat yogurt, too. Recipe suggests placing the baking sheet on an inverted baking pan if you aren't able to get the oven rack within 3 inches of the heat.

This is such a great little dessert Elizabeth and very similar to a parfait w/o the granola. I used the plain yogurt w/all blueberries like you. Next time, I need to add more brownsugar which I made a private note. Didn't add enough and so it was a bit sour. Could have been my blueberries too. To keep it real low-cal substitute brownsugar Splenda. Next time~ Mine broiled up in under 3 minutes and again depending on how browned you want it. Made for January Beverage Tag, 08.
Place berries evenly in 4 individual ovenproof bowls on a baking sheet.
Top each with yogurt and sprinkle evenly with brown sugar.
Broil 3 inches from heat (with electric door partially open) 3 to 5 minutes or until sugar melts and serve immediately.