Rose Murray's Quick Pickled Beets
Derf2440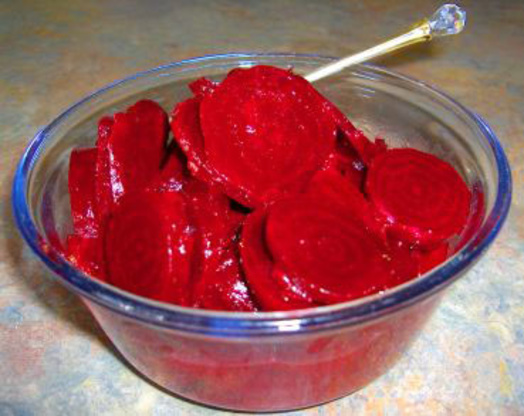 One of our members has been looking for a pickled beet recipe that isn't on the sweet side, and I just found this so I'm posting it so we can all share. I've not made it (but I likely will since pickled beets are a favourite of mine) but any recipe from Rose Murray, one of Canada's great cookbook authors, is definitely to be trusted.

These were really very tasty and such a refreshing change from canned pickled beets. I had requested a pickled beet recipe made with fresh beets that was not quite as sweet as the usual kind. This is not terribly sweet - the natural flavor of the beets really shines in this. Beautiful ruby color, too.
Preheat oven to 375F.
Wash the beets well and remove all but one inch of stem and tails; place in a shallow pan and pour in water to come up about 1/4 inch.
Cover pan with foil and bake in preheated oven for about 35 minutes, or until beets are tender when you pierce them with a knife.
Old beets will take longer than newer beets, and bigger beets will, of course, take longer to become tender than smaller beets.
Drain cooked beets, let cool until you can touch them, then slip off the skins and into quarter-inch rounds and place in a serving bowl.
In a small mixing bowl, whisk together the remaining ingredients except the oil, then slowly whisk in the oil; pour over beets and toss gently.
It's recommended the beets be refrigerated before serving.