JustJanS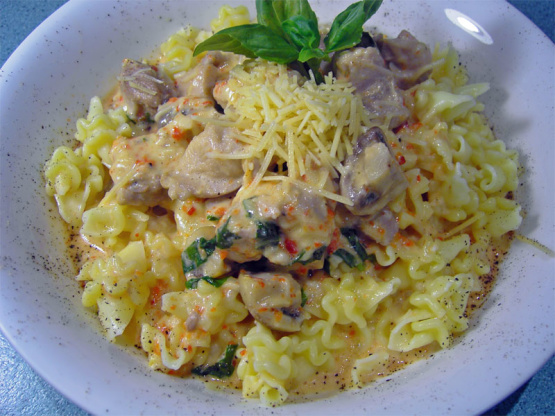 This is one goood chicken dish! It makes a pretty presentation, so works well for company.

This was very nice thanks homegirl. I made a couple of minor changes (lower fat cream and chicken stock powder rather than salt) and resisted the urge to add a couple of bacon slices and some green onion. This was subtley flavoured and very pretty. I would make it again with the added extras I mentioned.
In a saute pan, heat oil and place garlic, chicken, and mushrooms and cook till chicken is seared.
Add all remaining ingredients except basil and cook till sauce is reduced almost to point of being thickened.
Toss pasta into sauce, then add basil, toss.
Remove to a serving dish and sprinkle with romano.
Time does not include cooking time for pasta.