Rocky Road Chocolate Cake (Crock-Pot)

This rich, gooey, cake from Southern Living is "baked" in a slow cooker. It's best served warm. Topping with chocolate or vanilla ice cream is a nice touch, but not necessary because the cake is so rich!
Directions
Beat cake mix, next 5 ingredients, and 1 1/4 cups milk at medium speed with an electric mixer 2 minutes, stopping to scrape down sides as needed. Pour batter into a lightly greased 4-qt. slow cooker.
Cook remaining 2 cups milk in a heavy nonaluminum saucepan over medium heat, stirring often, 3 to 5 minutes or just until bubbles appear (do not boil); remove from heat.
Sprinkle cook-and-serve pudding mix over batter. Slowly pour hot milk over pudding. Cover and cook on LOW 3 1/2 hours.
Meanwhile, heat pecans in a small nonstick skillet over medium-low heat, stirring often, 3 to 5 minutes or until lightly toasted and fragrant.
Turn off slow cooker. Sprinkle cake with pecans, marshmallows, and chocolate morsels. Let stand 15 minutes or until marshmallows are slightly melted.
Spoon into dessert dishes, and serve with ice cream, if desired.
Most Helpful
Awesome recipe! Came out very moist and yummy. Even better warmed up the next day. This was a hit at our dinner party. Very quick and easy to make. I used a 6 qt crock because I didn't have a 4 and it still turned out amazing.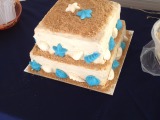 Great recipe! It turned out perfect, but I cooked it for an additional hour.
This was so good, it almost made me cry. I didn't have any pecans or any other nut for that matter, but it was still an awesome cake. I made it about a month ago and my stepdaughter still talks about it.