Crock Pot Chocolate Mud Cake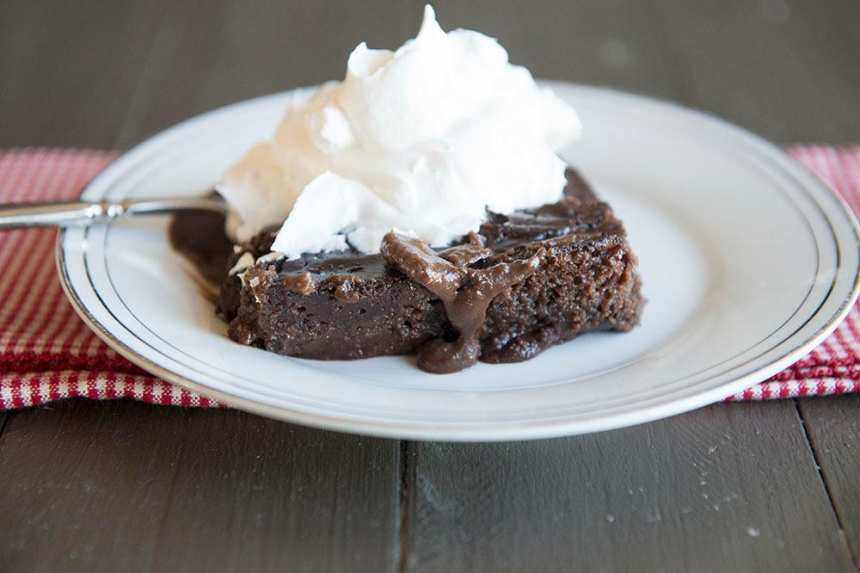 photo by Dine Dish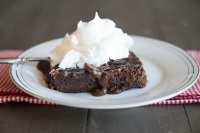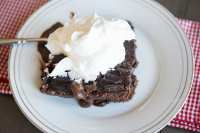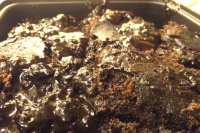 Ready In:

2hrs 15mins

Ingredients:

14
directions
Coat the inside of a 2 ½ quart to 5 quart slow cooker or crock pot with cooking spray. (Note: the cake's cooking time and final appearance will vary depending on your crock's size.)
Whisk together the flour and baking powder in a medium bowl and set aside.
In a large bowl, melt the butter and chocolate in the microwave or over a pan of simmering water and mix well.
Whisk in the 2/3 cup of sugar, 3 tablespoons of cocoa, vanilla, salt, milk, and egg yolk.
Add the flour mixture and stir until thoroughly mixed.
Pour the batter into the slow cooker and spread it evenly.
In a medium bowl, whisk together the remaining sugar, cocoa and hot water until the sugar is dissolved.
Pour the mixture over the batter in the slow cooker.
Cover and cook on high for 1 ¼ to 2 ¼ hours, depending on size of the crock pot.
Even when done, the cake will be very moist and floating on a layer of molten chocolate, but you will know it is ready when nearly all of the cake is set and the edges begin to pull away from the sides of the pot.
(As you check, try not to let the condensed steam from the lid, drip on the cake.) When it is done, turn off the power and remove the lid.
Let it cool for 25 minutes, then serve it in bowls topped with whipped cream or ice cream.
Questions & Replies

I have a little confusion about the white and brown sugar. There is one cup white sugar, divided. 2/3 of that goes into the batter with the cocoa, vanilla, salt, etc. Got that much figured out. But then...does the remaining 1/3 cup white sugar go in with the hot water and cocoa PLUS the 1/3 cup brown sugar (that the directions apparently forgot to mention, unless I missed something)? Many thanks to anyone who can clarify!

 
Reviews
Easy to make and very tasty. Loved the chocolate cake on top and fudge sauce on the bottom. My kids and dh also loved this cake. Ideas and Tips: This recipe calls for a lot of water - 1 1/2 cups. I thought it seemed like too much water but it worked out great. I used Hershey's Cocoa instead of dutch processed. Eat with ice cream! The brown sugar should be put in with the hot water. Put a couple of paper towels on top of your crock pot - cover with your lid. The lid will collect condesation. It won't fall back onto the cake because of the paper towels. Lift the paper towels off carefully when removing lid so the water doesn't fall on to the cake.

 

I doubled this for my 5 qt cp. I did not use the egg yolk. It took 2 1/4 hours to cook. Then I turned if off and let it sit for 3 hours until after dinner. It was fabulous. I served it with whipped cream or ice cream. The kids loved the ice cream with the sauce over it. Even my picky son loved this! This is alot like betty crocker's hot fudge sundae cake, but my kids liked this one better! Thanks Ridgely! UPDATE: Ok, I made this for the 10th time, but this time I make it with Gluten Free Flour mix and Rice flour for the "flour", I used coconut oil and palm oil shortening in place of the butter, used the egg yolk, AGAIN this was doubled for my 5 qt. and only 1 out of 6 kids that had some didn't like it! It gave it a more fudgey cake top and the sauce was thinner, but it was still wonderful! Kids fought over who would get the last bit the next day!! Very forgiving and versatile recipe. SIDE-NOTE: Dutch-processed cocoa and Hershey's baking cocoa can be used interchangeably, as they are the SAME. Dutch-processed is said to make sure you don't use hot chocolate mix. :)

 

OMG - thank you for a delicious idea. Even though I accidentally overcooked it (forgot to turn off the slow cooker after the cake had aleady pulled away from the edges) it was very moist and tasty. We served it with icecream - incredible. One thing - be certain to squirrel away a little for the following morning. The self restraint will pay off as the cake is FABULOUS with a cup of coffee the following morning. It was served in the morning as a breakfast: 1/2 cup rolled oats with a sprinkling of dried cranberries; add scoop of cake and microwave for 30 seconds. Next, carefully pour 1/2 cold milk down the side of the bowl and top with handful of almond accents. The cold milk sets off the warm cake, and the salty almond accents sets off the sweet cake and dried cranberries. SUPERB recipe - thanks again!

 

I made this tonight as a test before taking to my son's second grade class for them to make. It is so delicious! I had mine with whipped cream, my son had his plain. My husband will have his later, probably with ice cream. Whatever your choice, I really don't think you can go wrong. I used a generic cocoa, and it was still very yummy. I love that the cake is spongy. I would prefer there was less sauce, so I may try cooking is longer than 1 1/4 hours the next time (not for the class though). I also put a tea towel under the lid to catch all the water. That worked well. Thanks for a great recipe!

 
Tweaks
What an easy, delicious cake. I veganized and kicked up the ingredients a bit to make a healthier version. Replaced plain flour with whole wheat pastry flour, switched cow's milk with soymilk and replaced white sugar with turbinado sugar. Replaced egg yolk with 1T ground flaxseed + 3T warm water and switched butter to vegan margarine and reduced it by 1 T.<br/><br/>Still amazing, the batter is spoon-licking awesome alone and when veganized, totally safe to eat! Kids and adults raved about it. Thanks for sharing a great recipe.