Roasted Winter Root Vegetables
Prep 10 mins
Cook 30 mins

These vegetables are made extra yummy by roasting them. It emphasizes the sweetness of the vegetables, and cooking at a high heat seals in the flavor and carmelizes the vegetables. This is wonderful with ham!
Directions
Combine first five ingredients in a large bowl; toss well. Arrange vegetables in a single layer in a large roasting pan or broiler pan.
Roast at 450° for 25 to 30 minutes or until browned, stirring gently every 10 minutes. Stir in herbs and salt just before serving.
Most Helpful
Very yummy. I used them as a side for a dinner party and to make things easier I pre-roasted the veggies for 20 min, and then when it was closer to time for dinner I put the sauce on and roasted for the final 20 min. They were perfect and piping hot when served.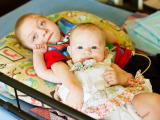 I ate a plate of these vegetables for dinner and I was so satisfied! Deliciously carmelized, the herbs and salt just give it an added boost at the end. I used baby carrots and a few red potatoes in place of the turnip because it is what I had on hand. Thanks for this easy recipe!

Thank you ... this was delicious! Lovely to see everyone's variations also. To make it a little more low calorie I just used one tablespoon of olive oil mixed with a teaspoon of honey and a big squeeze of lemon juice...very tasty!!!