Roasted Pork Tenderloin With Minted Mango Relish
racrgal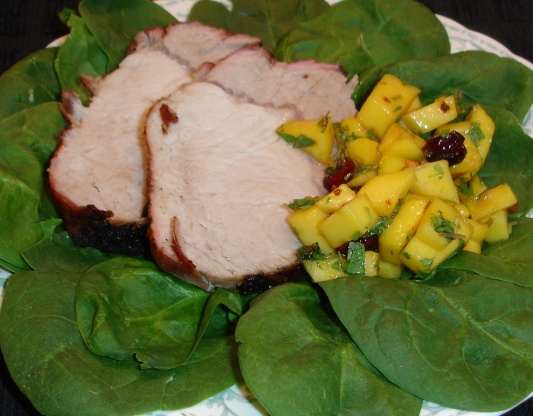 This easy to make pork tenderloin dish with mango relish is an elegant dish to serve for family or friends. I found this recipe in a Southwest Parent magazine.

This was a big hit. Great flavour combination. I had some homemade mango chutney already made so I didn't try the relish yet but this recipe is a definate keeper to try next time. For pork I like to get the internal temp. to at least 160 F so it took about 10 mins longer for us. Even then the roast was abit pink inside so I'll probably go to 165 F next time. I cooked the roast in the oven in a pan with rack so I poured the marinate with abit of water in the bottom of the pan so it doesn't burn & the flavour continues to marinate the meat during cooking. It smelled so good I was tempted to make the drippings/sauce into a gravy, I'll probably try that next time too. Fabulous recipe, thanks for sharing.
In a resealable plastic bag, combine pork, orange juice, molasses, ginger, and coriander; turn to coat. Marinate 4 to 24 hours.
Remove pork, discard marinade.
Heat oven to 450 degrees. Place pork in shallow roasting pan; roast 20 to 25 minutes or until internal temperature is 155 degrees; remove from oven. Let stand 5 minutes before slicing.
For the relish: Combine all ingredients in a small bowl and serve with pork.