Roasted Cauliflower With Parmesan Cheese
Debbwl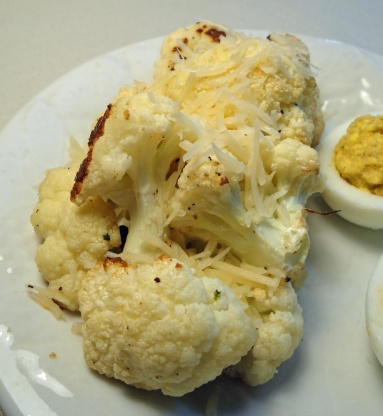 I got this recipe from Weight Watchers. It is delicious. The rich, nutty flavor of freshly grated Parmesan cheese pairs beautifully with cauliflower. Try the same recipe with broccoli, baby carrots and asparagus.

Top Review by Kim127
I really liked how the cauliflower roasted up in this recipe. It still had great texture but was also quite tender. I had mine in the oven for about 20 minutes.
Preheat oven to 450 degrees.
In large bowl, combine cauliflower, oil, salt and pepper; toss to combine.
Transfer cauliflower to large baking sheet and spread into a single layer.
Roast until cauliflower is golden brown, tossing occasionally, about 15 minutes.
Remove from oven, place in serving bowl and sprinkle with cheese; toss to mix.
This is 1 point per each serving.
Each serving is 3/4 cup.