Roasted Asparagus With Parmesan
PaulaG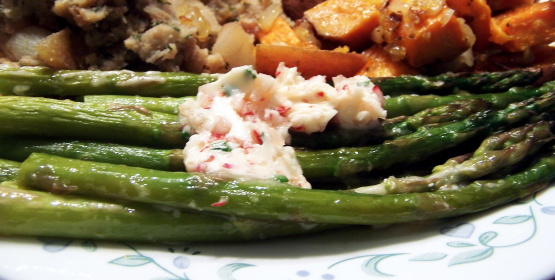 A yummy and different way to cook your asparagus. From BHG magazine.
Was so simple didn't need to drain or flip it over. Using the parchment paper it came off easy. I cooked it and did a few chores lol vacuumed my room then cleaned the ferrets litter box. I went into the kitchen to check on it a second time and it was still soft in the middle quiet a bit. But deiced better safe than sorry I got the tongs snatched them off and they finished cooking out of the oven and were perfect. Oven cooked bacon only for now on never once did I get popped by grease.
Preheat your oven to 450*F. Place the asparagus in a 3 quart rectangular baking dish. Drizzle with olive oil and sprinkle with the Parmesan cheese. Roast uncovered, about 15-20 minutes or till crisp-tender(or done to your taste). Use tongs to lightly toss 2 times during cooking.
Meanwhile, in a small bowl, combine butter, radishes, chives, and lemon juice. Transfer asparagus to a warm serving platter. Serve with butter mixture.
Makes 8 servings.