Roast Beef and Chevre Wrap (Goat Cheese)
lazyme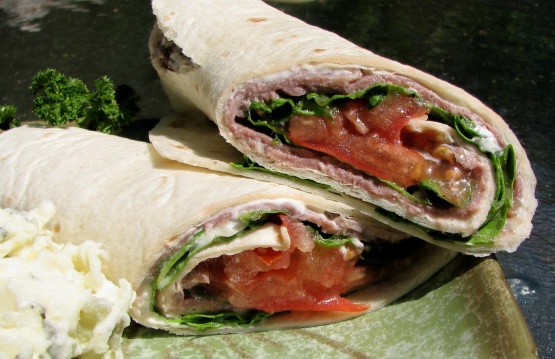 The lady whose house my DH was painting raises goats and makes this wonderful cheese. So she was kind enough to send some to me in exchange for some cherry tomatoes from our garden. I had never tried goat cheese before, but I loved it, so did DD. This is a sandwich which I made up to enjoy it. Note: Chevyer is a soft cheese and is crumbly in texture.
Spread mayo on tortilla, layer lettuce, tomato slices, roast beef and crumbles of chevre cheese in the middle of the top half of tortilla.
Fold bottom half up and then fold over both sides tightly.
Note: If you are like me and can't get your wraps to stay tight, wrap in a paper towel to help with fall apart messes.