Ridiculously Easy Juicy Chicken Thighs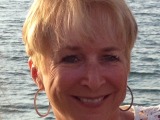 I am almost too embarrassed to post this because of its simplicity, but my family loves it. I always used to marinate chicken in Italian Dressing and one day I realized I was out so I grabbed a bottle of Newman's Own Light Lime Vinaigrette instead because it's all I had on hand (and it's 50% less fat and 52% fewer calories than regular dressing). WOW. The lime adds a wonderful "zing" to the chicken. Two ingredients. Can't get much easier than that. Tastes great served with couscous (use some of the juices atop the couscous) and a green veggie. I plan to try this method on chicken kabobs on the grill in the summer months.
6 ounces newman's own light lime vinaigrette dressing
8 -10 chicken thighs (with bone and skin)
Directions
Wash chicken thighs and pat dry. Place the chicken skin side up in a shallow baking dish and pour the dressing over the chicken. Cover with plastic wrap and marinate in the refrigerator for a minimum of an hour.
Preheat oven to 375 degrees. Retaining the marinade, cook the chicken, uncovered, for 45 to 60 minutes (to desired doneness).
Reviews
Most Helpful
Oh My God - not sure which is better: how good it tastes or how easy it is to make. So glad you got over your embarrassment and decided to post this recipe. This chicken was so juicy, tender and full of flavor. I trimmed the excess fat and skin off the thighs and then marinated for about 3 hours in a plastic baggie (flipped bag every once in a while). I baked the thighs skin side down for the first 30 minutes and then flipped and baked skin side up for last 30. The skin came out all brown and pretty (saved the juices to serve with leftovers and rice). Served with Roasted Fingerling Potatoes With Seasoned Salt #153305 and steamed broccoli. Thank you Epi Curious for such a great recipe, keep it up, there is absolutely nothing wrong with easy.