Rice Cooker Bacon and Onion Rice
HisPixie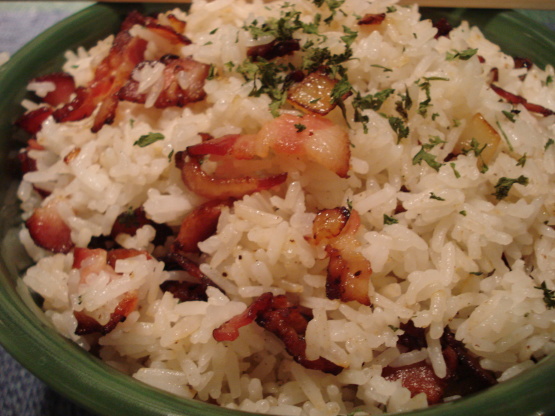 This rich rice dish can be made in a rice cooker, my favorite, or a regular pot. It goes well with red meat, such as stew or steak.

Wow, this is really good. I didn't have any bacon on hand so I cooked the onion in some bacon fat and added real bacon bits. It turned out really good. Now that I have bacon on hand, I'll be making it again tonight. My husband and older kids liked it. The littles are losing out but it leaves more for us! Thanks for posting.
Cut onion into chunks (approx. about 1/2").
Slice bacon into small pieces (approx. 1/4" square).
Place rice in rice cooker and add water as recommended (usually about 2 cups). Set to cook.
Heat medium-sized frying pan over medium heat. Fry bacon and onion together until bacon is crisp.
When rice is done, add butter or margarine and stir to combine. Add bacon and onion mixture and stir to combine.