Food.com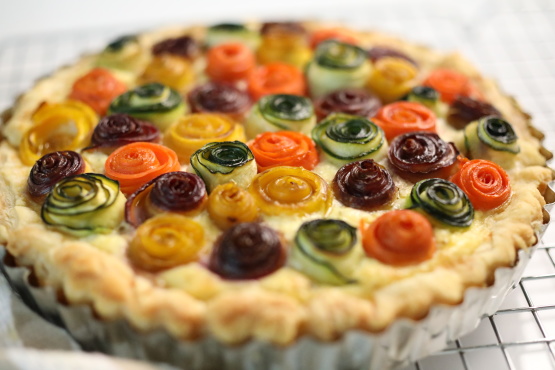 Thinly sliced vegetables transform into edible roses in this eye-pleasing tart.

This recipe is rather labor intense, but sure has a wonderful presentation. A few suggestions: I would just use a regular pie crest and cook it first. Carrots need to be cut very thin and micro waved for a longer time then you think (Until they are rather soft). Use a tooth pick to hold them together after rolling them till it's time to put them in . I used summer squash and zucchini (nice colors) and they cook very fast. The part that needs some doctoring up is the cheese mixture. We made 6 individual ones and let every one doctor their own cheese mixture the way they wanted. Some ideas are, hot red pepper flakes, fresh basil, ginger, turmeric, fresh parsley, garlic and so on. These only cooked for about 25 minutes. So hope this is a help to someone. It was really fun making them.
Unfold a puff pastry sheet over a tart pan. Place parchment paper or foil in the center and weight it down with beans or pie weight.
Bake the tart base in a preheated oven at 350 degrees F for 15-20 minutes. Remove the weights and parchment paper. Let it cool.
In a bowl, add the eggs, ricotta, grated parmesan cheese, grated nutmeg and pinch of salt. Add the mozzarella and oregano. Mix everything up until smooth.
Slice strips of zucchini and carrots length-wise using a potato peeler or a mandolin. Place the slices in a bowl and cook in the microwave for 1 minute. This step will soften the slices and make them much easier to roll.
Spread the cheese mixture on top of the tart base.
Take one slice of a vegetable and roll it up very tightly—this will form the core of the rose. Take another slice and keep rolling. With around 2-3 slices you should obtain a decent-size rose bud. Place the bud in the center of the tart, pushing it down into the cheese. Keep rolling roses of different colors and place them one next to the other in a spiral formation.
Brush olive oil on top of the vegetables and bake the tart at 375 degrees F for 50 minutes.