Rachael Ray's Orange Freeze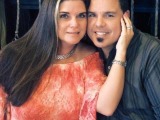 This tastes like a fizzy creamsicle!
Directions
For each freeze, in a blender combine 3 scoops orange sherbet and 1 scoop vanilla ice cream.
Add 1/4 liter lemon lime soda or lemon lime seltzer and 4 ice cubes to the blender.
Set blender top in place and blend on high setting until frothy and smooth.
Pour into fountain or tall glass and garnish glass rim with a round of lime and a straw. Repeat with remaining ingredients.
Most Helpful
Wow these are good! The portions are gianormous, 1,25 pints per each! Not going to happen anywhere outside of US!
MMMM!! my family loved this!
This is delicious! I have been making variations of Orange Freeze since I was a small child. We love them! Thank you for posting, Juenessa!