Rachael Ray's Orange Freeze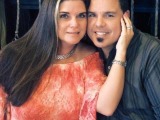 This tastes like a fizzy creamsicle!
Make and share this Rachael Ray's Orange Freeze recipe from Food.com.
Directions
For each freeze, in a blender combine 3 scoops orange sherbet and 1 scoop vanilla ice cream.
Add 1/4 liter lemon lime soda or lemon lime seltzer and 4 ice cubes to the blender.
Set blender top in place and blend on high setting until frothy and smooth.
Pour into fountain or tall glass and garnish glass rim with a round of lime and a straw. Repeat with remaining ingredients.