ImPat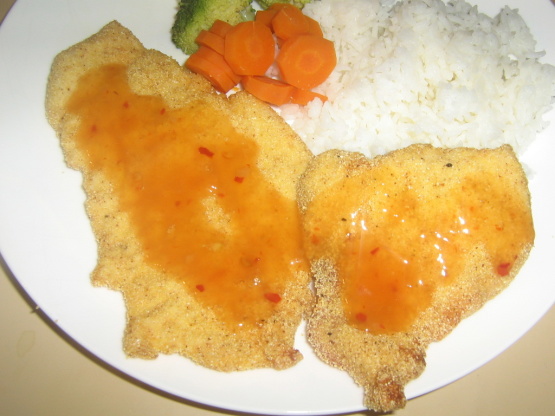 R U Chicken stands for Rice Under Chicken. This was a submission to RSC #8. When it was a contest recipe, there was a pepper chutney that went along with it. As it was not to the tastes of the members of my family, we chose to delete that portion of the recipe. I would suggest to go with Susie D's suggestion and serve with salsa and/or sour cream. I agree that it may need "something".

Top Review by ImPat
I sliced about 800g (4 chicken breasts) - dividing each into 3 horizontal slices rather than strips. I used only about 2/3'rd of the crumbing mix for this amount and served with steamed doongara rice and steamed vegetables and my recipe # 175979 to add just a little more zing to the dish but ONE WORD OF WARNING WHEN CRUMBING DO NOT scratch your eye IT STINGS. Thank you Saturn for a recipe I will try again for it is healthier on my blood sugars than regular wheat crumbs, made fpr Jea;tju Choices ABC.
Mix first six ingredients in a wide bowl.
Pat chicken with paper towel to remove extra moisture.
Cut chicken breasts into strips (3/4" to 1" thick).
Turn heat on high.
Add oil to a large frying pan. You will need about 1/2" of oil in the bottom of the pan. Heat to med-high (not smoking).
While oil is heating up, dip chicken strips into milk. Let excess drip off.
Roll strips in cornmeal mixture until thoroughly coated.
Fry the chicken strips for approximately 2-3 minutes per side (until coating is golden brown).
Scoop rice onto the centre of each person's plate.
Divide chicken strips evenly among the plates and place on top of rice.
Serve and enjoy!