Quinoa Salad With Tahini Dressing
Chilicat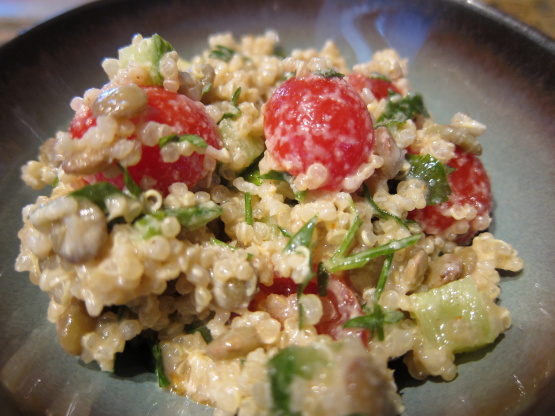 Adapted from the article Everyday Gluten-Free in the May 2011 issue of Canadian Living. The fresh mint brings this salad to life.

This salad is excellent! The tahini gives it an almost creamy mouthfeel and the greens add a nice freshness. The cucumbers, especially, give it a great crunchy texture that adds a lot of interest to the dish. This recipe is a keeper - I'll be making it on a regular basis for sure!
Cook quinoa according to package directions, using 1/4 teaspoon salt. Let cool.
In a large bowl, whisk together lemon juice, oil, tahini, warm water, garlic, cumin, peppers and remaining 1/4 teaspoon salt.
Stir in cooled quinoa, tomatoes, cucumber, parsley, mint and green onions, stirring to coat quinoa and vegetables with dressing.
This recipe can be refrigerated up to 3 days.
The original recipe called for 1 cup of canned lentils to be added with vegetables and quinoa and doubled the amounts of lemon juice, olive oil and water for the dressing.