diana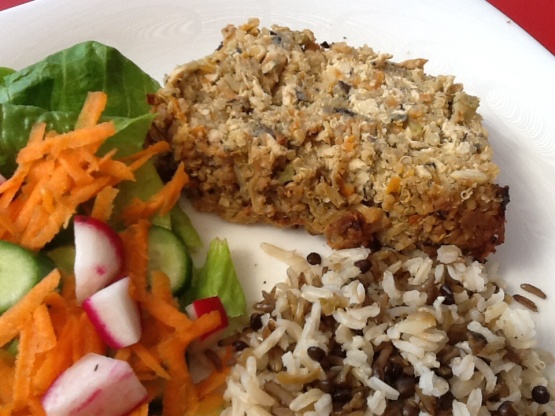 I foound this on the 3ABN recipe website and tried it. My family actually liked it too and they are fussy eaters! It is one that you can add your own favorite things to and it will adapt well. Just make sure that you diced or grate your added ingredients so that the loaf will cook correctly. It is a great vegetarian meatloaf substitute! If you use the egg for the non-vegan version, start with one egg and if it is still too stiff, add one at a time until the correct loaf texture.

Top Review by diana
The quinoa loaf turned out even better than I expected, flavorful and nutritious, and with excellent texture. I tweeted it a little bit as living in the Mediterranean area we are used to richly seasoned dishes. I sautéed the veg in a little olive oil, increased the quantity of herbs in the recipe, added basil and used 3 minced cloves of garlic instead of garlic powder. I would recommend serving this main dish with a suitable mild-flavored sauce - perhaps tehini.
Bring water to boil and add quinoa. Immediately cover and remove from heat. Do not uncover until ready to use.
Saute' onion, mushrooms, carrot, & celery until soft in a small amount of vegetable broth.
In large bowl, crumble tofu and combine with other ingredients including cooked quinoa.
Place in loaf pan that has been sprayed with non-stick spray or you can use an 8 inch baking dish.
Cover and Bake at 350 for 45 minutes.
Remove cover the last 10 minutes. Serve with a gravy made of mushroom soup mixed with sour cream. Or, you can use a brown gravy.