Quick Saucy Chicken Casserole
CoffeeB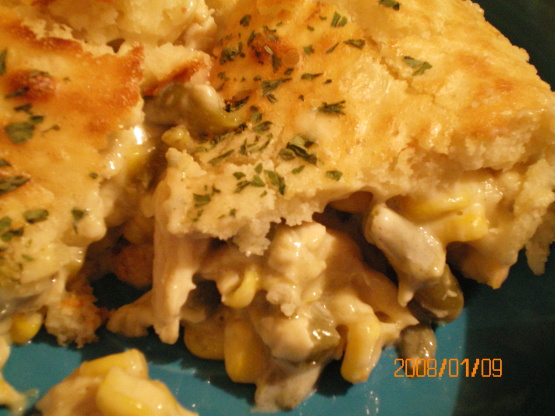 A quick and easy chicken casserole.... I always substitute the ingredients for my favorite biscuit recipe (adding just enough extra milk so that it will pour) in place of the Bisquick and the milk. We don't like the bagged frozen mixed vegetables, so I saute some fresh cut-up carrots, frozen green beans, celery, etc. and then toss them into the casserole. Reheats and freezes well.

Hi, This is a great recipe.My hubby just picks at food now that he is older and he actually ate this.I halved it and it turned out perfect.I also gave out copies for the local food pantry recipents. Thank you for posting it. School cooker
Heat oven to 450*.
Mix chicken, soup, vegetables, poultry seasoning and garlic salt in ungreased 3-quart baking dish.
Stir baking mix and milk until blended. Pour over chicken mixture.
Sprinkle with parsley.
Bake 30 to 32 minutes or until crust is light golden brown.
Serves 8 to 10.