Quick & Easy Chicken Tagine
Keeferop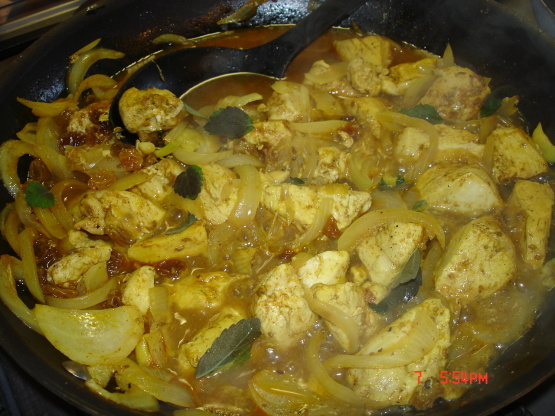 Inspired by Rachael Ray's 30 minute replica of this wonderful traditional dish. I serve it with brown rice, but also wonderful with cous-cous or other grains. Grilled plantains also introduce a wonderful sweetness to the mix.
In a large nonstick skillet, add the olive oil and smashed garlic.
Sauté onions for 1-2 minutes and add the chicken.
Sprinkle on the spice mixture (cumin--cayenne). Cook for 2 minutes on each side.
Add the prunes, raisins, and chicken stock. Stir to combine, reduce to moderate heat, and cook covered for 8 minutes.
Let simmer until near meal time. Remove cover and cook 2-3 minutes to help remove some of the moisture. Add more salt, pepper, or cayenne to taste. Top with cilantro.