Quick Chicken and Vegetables
Redsie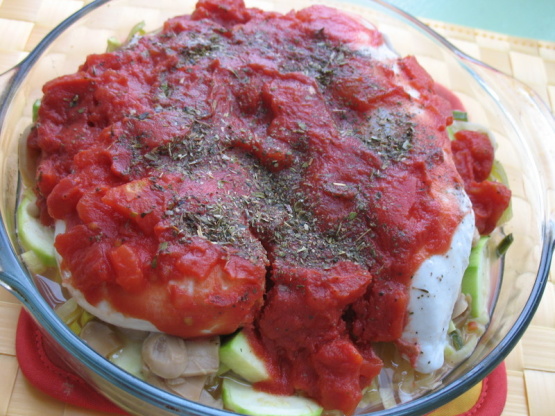 This a 30 minute recipe (plus a little prep time). All I add to this if anything is a slice of bread to sop up the juice or some rice or potatoes

Top Review by Redsie
This was an easy and tasty weeknight dish! What I loved about this is that everything goes in the same dish and you don't need to prepare veggies on the side!! It took a little longer than 30 minutes to cook - but I had big chicken breasts. Thanks Chef at Heart!
Preheat oven to 400 degrees.
Slice vegetables to the size indicated in the ingredients.
In a 11" x 7" rectangular casserole sprayed with non stick spray, place onions on the bottom.
Next layer zucchini and then mushrooms.
Place chicken breasts on top.
Mix spices into the diced tomatoes, and pour on top.
Cover with tin foil.
Bake at 400 degrees for 30 minutes or until chicken is done.
Serve with bread, rice or potatoes.