Quick and Easy Tom Kha Gai
JOY1998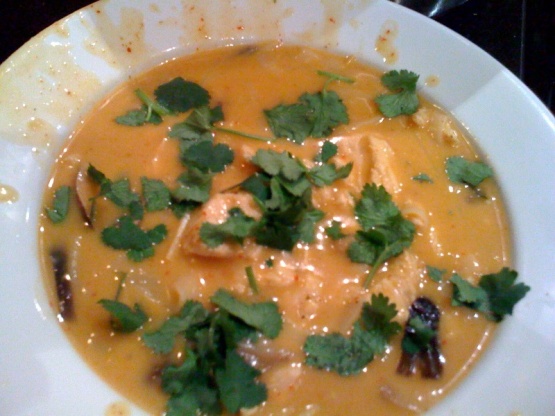 This is the very traditional recipe, but I've tweaked the quantities to make it much easier to shop for and work with. From start to finish you can have this done in half an hour or so, and the technique really is beginner-level easy. Unfortunately, if you don't live in an area with a Chinese grocery store, ingredient availability will be a problem. The hardest items to find are usually the kha (also called galangal) and the kaffir lime leaves, but if you can't find them PLEASE don't let that stop you; it's still excellent even without them. Everything else listed here is very easy to find, between the Chinese grocery and regular grocery. This is one of the national dishes of Thailand, and is usually found at Thai restaurants, but this recipe is better than ANY I have ever had in a restaurant. I can't claim any credit though; I'm just passing along a very good recipe. WARNING: this soup is totally addictive!

What a GREAT dish. The only issue I ran into is after I got down to the last line of the instuctions and they said "serve", I looked around and still had the mushrooms sitting on the counter. So, I just threw them in and crossed my fingers. Everything turned out fine. YUM!!! YUM!!!
I was intreged by the comment by camp chatsworth cook dealing with how he did the chicken. hmmmm.
If anyone has any thoughts about the" when to add the mushrooms" issue, I would like to hear what you have to say.
Tips: the lemon grass, lime leaves and kha are best left in large pieces to make them easier to pick out later, as they are tough and inedible. I leave them in all the way till serving and tell my guests to look for them and set them aside as they eat. The RecipeZaar ingredient format makes it hard to enter how much galangal (kha) to use: I use a root-knob about twice the size of the ball of my thumb. I use half of a 4-ounce tin of red curry paste (4 tablespoons) for a pretty spicy-hot soup; you can use 1/4 can for milder heat, but the recipe for Tom Kha Gai on the Maesri tin calls for the whole thing- WOW that must be hot!
In a large stock pot, saute the curry paste, garlic, lemon grass, lime leaves and kha in the vegetable oil for two minutes.
Stir in chicken broth and bring to a boil.
While broth is heating, slice the chicken breast and toss it in cornstarch. The amount of cornstarch doesn't need to be exact; just make sure the slices are evenly coated and shake off any excess.
Add chicken to boiling broth, stir gently, and bring back up to a simmer.
Stir in mushrooms, coconut milk, fish sauce and lime juice. Bring back up to a simmer, stirring gently a few times, then cut the heat off and you're ready to serve.
Garnish with fresh cilantro and serve.