Quick and Easy Thrown Together Baked Spaghetti Casserole
Bec6206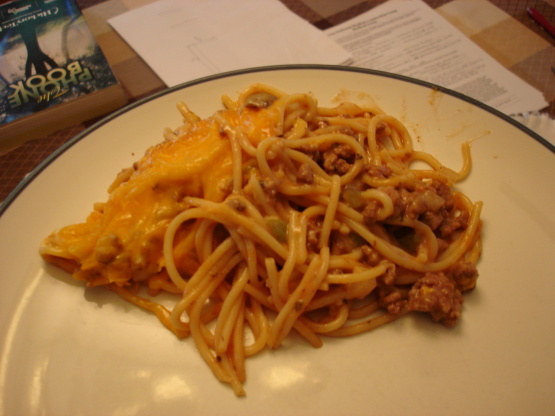 This is one of the best baked spaghetti casseroles I have ever made that was so easy to put together. I am not sure where I got the recipe. My family and friends love this recipe. Serve with a nice loaf of garlic bread.

I just wanted to say thank you for posting this recipe. It is exactly as the titles infers. I needed something different that was quick and that I could make from what I had on hand. This certainly worked. I served this today for lunch which is our main meal as hubby works 2nd shift. He made happy noises the whole time he was eating and he went back for seconds. I added hot Italian sausage along with the hamburger, mushrooms, the very little mozzarella that I had, some Parmesan and some pepper flakes. I asked hubby if he would eat it again and he replied with a resounding yes. He suggested the addition of black olives next time. Thank you again for sharing and this is one that stays in the recipe file.
Preheat oven to 350 degree.
Prepare noodles according to directions on package.
Drain well.
In a large skillet, add beef, onion, peppers and garlic. Brown until pink is gone out of the beef. Drain.
In a large bowl, mix together the meat mixture with the soups, water, seasonings, and spaghetti noodles.
Spray a 9x13 inch glass dish with Pam and spread mixture into dish.
Top with shredded cheese.
Bake in oven 20 minutes or until cheese is golden brown.
*Note: You may add Mozzarella cheese to the cheddar cheese for more of a cheesier bake.