Cheesy Layered Baked Spaghetti Casserole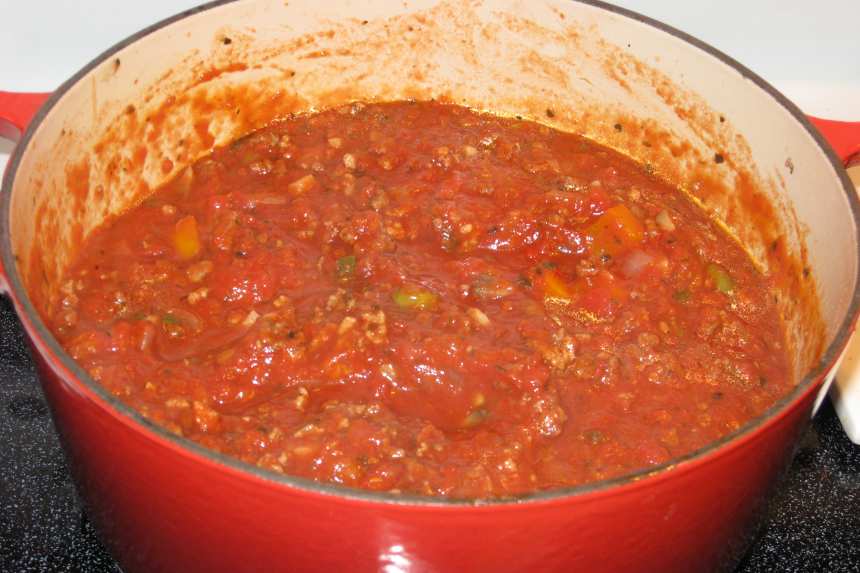 photo by FrenchBunny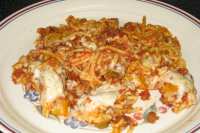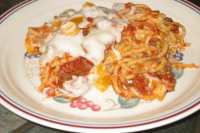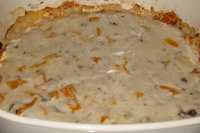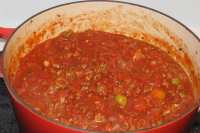 Ready In:

1hr 10mins

Ingredients:

22
directions
Grease a lasagna baking pan.
Place the cooked spaghetti in a bowl and toss with salt, pepper, eggs and 3/4 cup grated Parmesan cheese; set aside.
For the sauce (this sauce is better if made a day in advance!).
Brown the ground beef and pork in a medium heavy pot along with the dried oregano, basil, chili flakes, onion, one green bell pepper, jalapeno pepper, garlic and mushrooms; cook until the beef and pork are browned and the veggies are tender (about 12-15 minutes) drain fat, then add in the olives and crushed tomatoes; simmer uncovered for about 45 minutes.
Season sauce with salt and pepper to taste.
At this point you can cool to room temperature then refrigerate for up to 2 days.
Place half of the spaghetti in the bottom of the baking dish/pan.
Top with the half of the meat sauce, then about 1-1/2 cups mozza cheese.
Repeat layers once ending up with the mozza cheese on top.
Sprinkle a chopped green bell pepper on top of the mozza cheese.
In a bowl mix together the soup with milk or water, then drizzle on top of the casserole.
Top/sprinkle with about 1/3 cup (or more or less) Parmesan cheese (the pan will be full so I advise you to place the pan on a baking sheet to catch spills).
Bake in a 375 degree oven for 35-40 minutes or until bubbly (if desired sprinkle some mozza cheese on top the last 5 minutes of baking).
Questions & Replies

Got a question?
Share it with the community!
Reviews
Uh....this was okay... But for the effort next time I'd use the sauce recipe for a slight twist to lasagna, swap the mushroom soup for ricotta and stick with a staple. I did love the sauce. Adding green pepper and olives and a spicy sausage added an unexpected zip. But spaghetti casseroles just don't float my boat like a big ole meaty lasagna.

 

I really enjoyed this recipe Kitten, but my DD wasn't crazy about it. She ate it but said she wouldn't want it again. But that is okay, cause I loved it and I do the cooking...lol. Actually she thought it smelled, but what she was smelling was the cheeses. I made the sauce on Sunday to take away doing it all during the weeknight. I made the dish for Tuesdays diner. I had the sauce simmering for about an hour and a bit. Sure smelled good in my kitchen (but I also had my osso bucco in the oven) but I am sure it was your sauce smelling real good. I made the whole amount for the sauce but the recipe itself I had halved. Which still made plenty. I have two meals I froze for my lunches and 2 containers of extra sauce in my freezer..I just changed a few things but nothing major. I used yellow peppers since that is what I had in my fridge. I did add the chili pepper flakes and only used 1/2 Jalepeno. I also used about a handful of fresh mushrooms and of course I used the green olives. When I mixed the spaghetti with the eggs I used freshly grated percorini romano cheese. I used about a 10 x 10 casserole container. But I had to cook it a little more than the 40 minutes but that is because the sauce was cold and just came out of the fridge. Served it with a nice side salad. Thanks again for another great recipe Kitten. I love all of your recipes and can't stop trying them. Wish I had a family of 8 to cook for every night, I would be in my glory.

 

My family loved this recipe. I left out the Cream of Mushroom soup and milk part of the recipe. I don't think this recipe needs it as it makes a lot and I wasn't sure how the flavor combination would work. Might be good though. I've made it with and without the olives. Good both ways. Freezes well. Great for potlucks.