diner524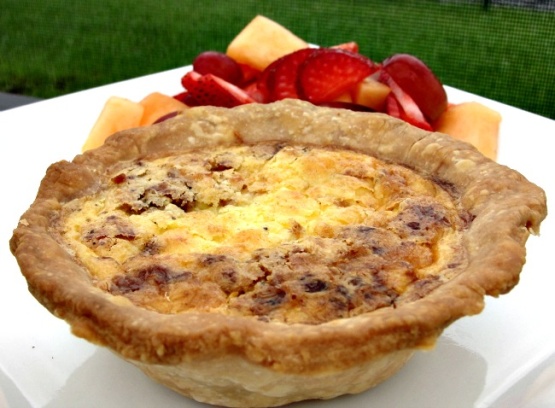 I love Quiche Lorraine, and wanted to make it this morning, but was out of half and half. I substituted a mixture of one cup 1% milk, and one cup of heavy cream, and was delighted with the result! And no wonder, the original French recipe is 18% butterfat, which is what this recipe turns out to be. That is what makes this so unbelievably yummy! I make it with My Favorite Pie Crust Splurge once in a while, you deserve it!
Wonderful tasting Quiche Lorraine!!! I made 1/2 of the recipe and used 4 small tart/pie pans which worked out perfectly with the amount of filling. I loved the amount of onion, cheese and bacon for the pies, perfect amounts. I am not a fan of nutmeg in my savory pasta or egg dishes, so also really appreciated the cayenne pepper, again, perfect amount, not too hot but gave a nice little bit of heat at the end of the bites. I made my posted recipe for recipe#474360 for the pie crust and it worked out perfectly to make the 4 mini pies/tarts. As the other reviewer stated, important to pre-cook the pie crust so that you don't have a soggy bottom. I baked my crusts for 10 minutes at 400 degrees and then took them out and let them cool to room temperature prior to adding the filling/ingredients, then followed as written. Thanks so much for sharing the recipe. Made for Everyday is a Holiday Tag Game.
Prepare your pastry dough and line your pie plate and refrigerate the crust while you bake your bacon. 400 degrees for 17 minutes, on a wire rack, over a cookie sheet. Let the bacon cool, so you can handle it.
Meanwhile, dice the onion, and grate the cheese.
Place the now diced bacon on the bottom of the pie shell, then the onion, the cheese, and the mixture of the milk, cream,eggs and spices over top. I usually do this with the pie shell already in the oven, to avoid spills.
Bake at 425 for 15 minutes, reduce heat to 350, and bake for 30-35 minutes longer, until a knife test comes out almost clean. Eggs continue to cook after they are taken out of the oven, so try not to overbake.
You may want to blind bake the crust, and saute the onions for a few minutes to soften, but I never do. Completely up to the chef!
Let sit for 15-30 minutes, then enjoy!