Pumpkin Spice Cake With Orange Buttercream Frosting
loof751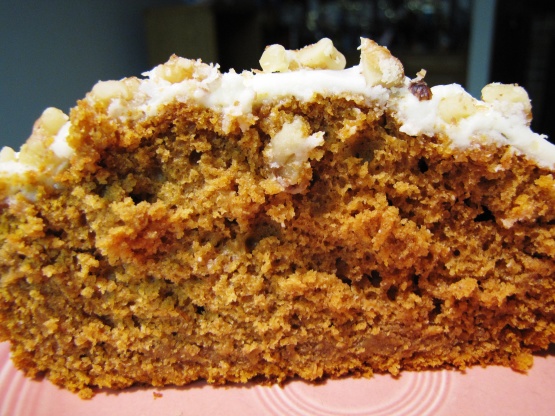 This cake is very moist and the flavor can't be beat.

This was really good! The cake was very moist with a nice spice flavour with a hint of pumpkin. I was making a pumpkin-shaped cake, so I did up a double recipe, which I baked in four 8" round tins. It was perfect for my project! Thanks for posting.
Preheat oven to 350°F
Place cake mix, pudding mix, pumpkin, oil, water, eggs and spice in large bowl. Beat with electric mixer on low speed just until moistened.
Beat on medium speed 2 minutes.
Pour into greased and floured 13x9-inch baking pan.
Bake 32 to 35 minutes or until toothpick inserted in center comes out clean.
Cool cake in pan on wire rack for at least 20 minutes.
To make frosting, place the butter in a large mixing bowl. Blend with an electric mixer on low speed about 30 seconds.
Add the confectioner's sugar and 3 tablespoons of the orange juice. Blend with the mixer on low speed approximately 1 minute.
Increase the speed to medium and mix approximately 1 more minute, until the frosting is light and fluffy. If needed, blend in 1 more tablespoon of orange juice to obtain proper consistency.
Frost the top of the cake. If desired, sprinkle with chopped nuts.
Store leftovers in the refrigerator.