Pumpkin Pudding (Budin De Calabaza)
karen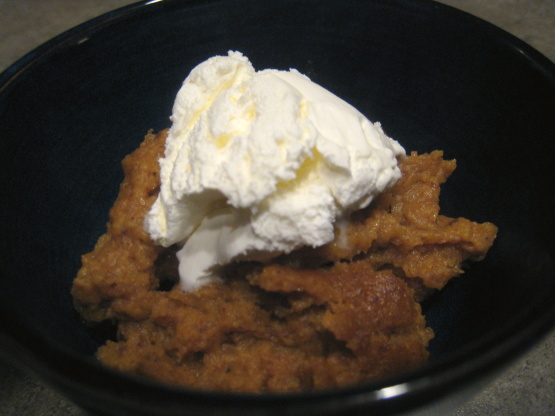 This is a recipe from Puerto Rico. They enjoy pudding as a light but special ending to a meal. This popular dessert is a medley of pumpkin, cinnamon, and cloves.

I loved this!! I sub'd honey for the sugar, and baked it about an extra 10-15 mins as it didn't set up enough in the prescribed time (probably b/c of the added liquid in the honey). The result was a substantial, hearty, yet fluffy custard with an earthy, rich taste. It was a great addition to my family's Christmas dinner and I can't wait to make it again.
In a large mixing bowl thoroughly combine the pumpkin, sugar, flour, butter, cinnamon, salt and cloves. Add eggs; lightly beat eggs into pumpkin mixture with a fork. Add milk; mix well.
Place a 10 x 6 x 2 inch baking pan in a 13 x 9 x 2 inch baking pan on an oven rack. Pour in the pumpkin mixture. Pour hot water into the outer pan to a depth of 1 inch. Bake in a 350 degree oven about 45 minutes or till knife inserted comes out clean. Cool pudding; chill.
Combine whipping cream and rum. Beat till soft peaks form. Spoon pudding into 8 dessert dishes. Dollop each with whipped cream mixture.