Pumpkin Custard Streusel Muffins
Hollyism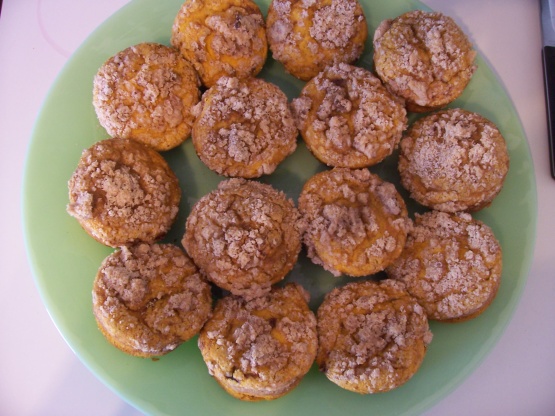 These are sooo easy and sooo delicious. I came up with this recipe (after much trial and error) while trying to make a really moist pumpkin muffin. These are not only moist but custardy, hence the name!

Great muffins!! Moist, tasty and unbelievably light. Three out of five people who tasted them asked for the recipe.
Muffin Batter

1

(18 1/4 ounce) box vanilla cake mix (I like Betty Crocker Natural Vanilla or Betty Crocker SuperMoist Cinnamon Swirl Cake Mixes)
3⁄4 cup water
1⁄3 cup vegetable oil

3

large eggs

1

(15 ounce) canpacked pumpkin puree

1

teaspoon cinnamon
1⁄2 teaspoon ground ginger

Streusel Topping

3⁄4 cup sugar
3⁄4 cup flour

1

teaspoon water

1

teaspoon vanilla
1 1⁄2 teaspoons cinnamon
1⁄4 cup butter, softened
Preheat oven to 350°.
Mix muffin batter ingredients with electric mixer on medium speed for two minutes or until smooth.
Spray muffin tin with nonstick spray and fill with batter nearly to the top (because these are so moist, they rise very little).
Mix together streusel ingredients until crumbly. Top each muffin with some streusel. (You can freeze any leftover streusel to use next time).
Bake for 30 minutes or until a toothpick comes out with moist crumbs.
Note: If using SuperMoist Cinnamon Swirl Cake Mix, swirl the cinnamon packet into batter after mixed and omit cinnamon and ginger from muffin batter.