Pumpkin Cranberry Breakfast Cookie
GaylaJ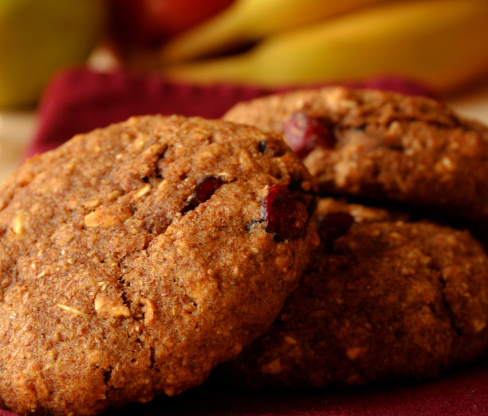 This is a variation on a breakfast cookie from Jennifer at Allrecipes.com. I made these up as I have tons of pumpkin and I love pumpkin anything, try these they are nice and soft and spicy.

I'm pleasantly surprised at how easy and tasty these are.

Pros:
~easy and fast to make
~Would make a decent cookie-in-a-jar gift
~On hand ingredients
~Healthy
~Easy to adapt to new/other ingredients
~Gets kids to eat pumpkin!

Cons:
~I had to bake for a couple extra minutes
~dough was very dry, I added an extra 1/4 cup pumpkin

What I changed:
I know, I know, you're supposed to make recipe as written the first time, but why make my own mistakes when I can learn from previously written reviews? :-)
~I replaced 2 T flax seed for 2 T flour, for extra fiber
~Instead of pumpkin pie spice I did 1 part cloves, 2 parts ginger, and 4 parts cinnamon to equal about a heaping teaspoon. Next time, however, I plan to do 1/4 teaspoon cloves, 1/2 teaspoon ginger, and 1 teaspoon cinnamon to make it extra spicy.
~I used 1 cup pumpkin puree instead of the 6 tablespoons applesause and 6 tablespoons pumpkin. Applesause is more wet, which is why I need to add extra moisture.
~I used one whole egg instead of two egg whites.

Weight Watchers:
The whole recipe contained 2354.5 calories, 20.5 grams of fat, and 56.5 grams of fiber with my additions and substitutions.
Per cookie (recipe made 24): 98 calories, .85 grams of fat, and 2.4 grams of fiber, which equals 2 WW POINTS for 1 cookies, 3.5 WW POINTS for 2, and 5.5 WW POINTS for 3.

Thank you for this recipe! Very yummy. I've eaten three and they haven't even been out of the oven for 30 minutes!
Preheat the oven to 350°F.
Place all ingredients in bowl, stir together until combined.
Roll the cookies into golf ball sized balls with cooking oil sprayed hands.
Place on cookie sheet (s) about 2 inches apart, giving them room to spread slightly.
Spray tops with cooking oil, flip over with a cooking oil sprayed spatula, these are precautions so your cookies won't stick to the pan.
Bake about 8 minutes for moist cookies and 10-12 for dry cookies.
Store in Tupperware between layers of waxed paper.
Great with a pumpkin pie latte!